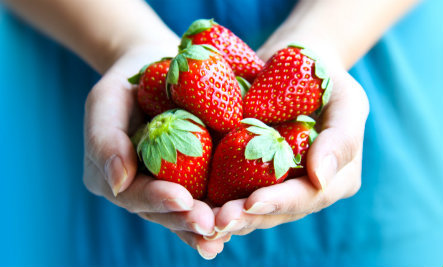 Strawberry is a popular fruit in the world. The fruit has a red color with a taste so delicious, so many people, especially children love this kind of fruit. Strawberry fruit has health benefits and can also be used as a beauty treatment. Nutrients and vitamins in strawberries extremely complete. With complete nutrition, strawberry is very efficacious to overcome various disease and beauty problems. Strawberries are often combined with medicinal syrups for children because strawberry fruit much liked by the children.
In the history of ancient Greece, this fruit was appointed officially as a symbol of the goddess of love because it looks pretty. At that time, the beauty of love was symbolized by the color, the flavor of this fruit. Since then, this fruit became famous. The shape is beautiful, seductive, feminine, sensitive and sweet, just like a lady. So many people call the strawberry fruit is a love fruit.
Strawberry nutrients per 160 grams
50 calories of energy
1 gram protein
11.65 grams carbohydrate
3.81 gram fiber
23.24 mg calcium
16.60 mg magnesium
31.54 mg phosphorus
Sugar 7.45 g
44.82 mg potassium
Selenium 1.16 mg
94.12 mg of vitamin C
Folate 29.38 mg
44.82 IU Vitamin A
Potassium 244.8 mg
Sodium 1 mg
Strawberry health benefits
Strawberry has very potent anti-cancer agent to prevent and fight cancer cells in the body, so that it can inhibit the growth of cancer cells rapidly. This is because the antioxidant substances able to ward off free radical attack, thus preventing cell damage in the body caused by free radicals.
Benefits of strawberry juice can prevent and get rid of acne fast. Vitamin C in strawberry juice, alpha hydroxy acids, salicylic acid, and flavonoid can kill the bacteria that cause acne and get rid of acne fast. In addition, the strawberry fruit juice can also cut the amount of excess oil that causes acne.
If you experience constipation, strawberry juice is a good alternative to unleash the digestive tract. In the strawberry fruit, there is a soluble fiber which can dissolve food that difficult to digest in the gut. So that bowel movements become easy and smooth. Natural fibers can prevent and treat digestive problems.
Strawberry juice drink can keep a healthy heart, as in strawberry fruit juice has very high antioxidant that can help protect arteries from damage and prevent blood clots that can cause pinched blood vessels.
Strawberries also help to increase antioxidants in the blood, cut oxidative stress, inhibit inflammation, improve blood vessels function, improve blood lipids and reduce negative oxidation which causes cholesterol.
Strawberry juices have calcium and phosphorus which very efficacious to prevent and overcome health problems such as osteoporosis and accelerate the growth of teeth in children.
Drinking strawberry juice every day is believed to cut high cholesterol levels. There are phyto-nutrients in strawberry which useful to raise good cholesterol levels and lower bad cholesterol levels in the blood.
How to make strawberry juice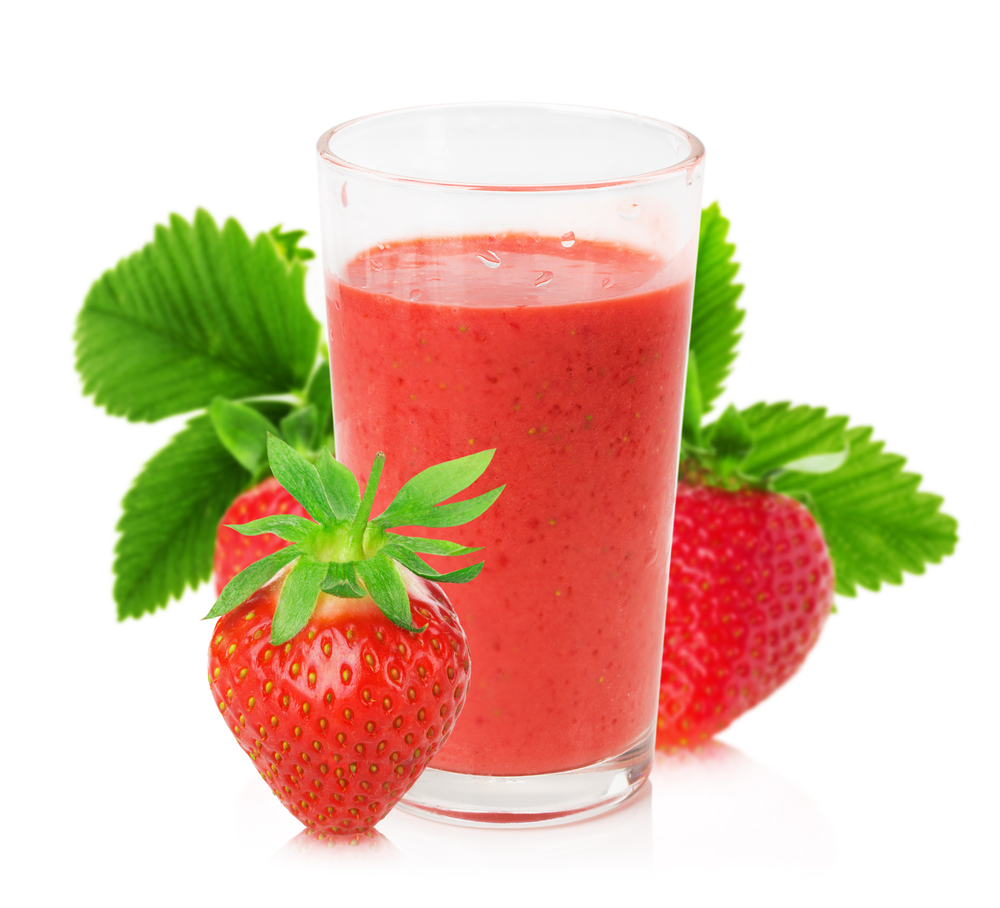 Clean the strawberries as much as 250 grams, then put then into a blender and add water, pure honey to replace sugar, sweetened condensed milk, and ice cubes.
Puree until soft, then pour into the glass.
Strawberry juice is ready to drink.
*Drinking regularly 2 times a day to get health benefits of strawberries.