Currently, in Vietnam as well as in the world, there have been many fires occurring due to human consciousness.
Rita is aware of that and is very careful in preventing fire. Although our factory is well prepared with fire-fighting equipment, we also need to train all our employees on how to handle explosions.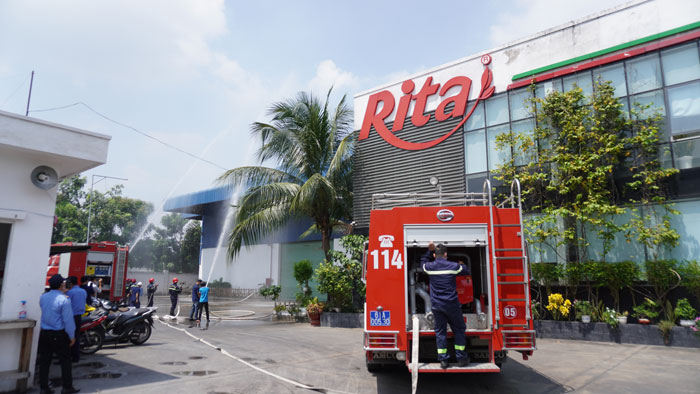 On September 11, 2020, Rita Food and Drink Co., Ltd cooperated with fire prevention and fighting police to drill the fire prevention and treatment. The rehearsal has the participation of 2 specialized fire trucks, 07 fire-fighting police, and more than 350 employees.

At the rehearsal, the fire prevention and fighting police instructed the necessary skills when an incident occurred. In which, when a fire occurs, the fire protection forces of the company need to quickly put out the fire and evacuate people to a safe place. We should coordinate with professional forces to control and extinguish the fire in the shortest time.

With a factory area of ​​more than 30,000 m2 and 350 employees, Rita always puts fire prevention and fighting as the first priority to protect the trust of employees and assets for businesses. Rehearsal is held every year to help Rita staff raise awareness of fire prevention and handling skills when a fire occurs.
What a hard training day is but very happy with the safety of the company!